En Plein Air:
Jack Stuppin in New Mexico
by Miriam Roberts
Jack Stuppin has done most of his work among the lush hills, orchards, rivers, and coastline of Northern California. In recent years, however, he has occasionally traveled 1000 miles southeast to the high desert of Northern New Mexico.
In his journey, Stuppin is following a well-worn path. Artists began coming to Santa Fe and Taos in the late nineteenth century in a steady stream that continues unabated into the twenty-first. Modernists like Marsden Hartley, John Sloan, John Marin, Stuart Davis, Maynard Dixon, and Andrew Dasburg have all made the trek - some passing through and others, like Georgia O'Keeffe, staying long enough to become known, at least locally, as local artists. Many contemporary artists continue to paint the New Mexico landscape, but Stuppin is one of the few remaining true en plein air painters - practicing the art of painting outdoors, not from photographs in the studio.
Like every good artist, Stuppin has absorbed - consciously or unconsciously - the history and tradition of his medium. He is passionate in proclaiming his belief that the genre of landscape painting remains meaningful to the viewer and to society. Donald Kuspit notes that Stuppin's paintings relate to the Romantic tradition in American landscape painting, but divested of references to divine or human presence.
More recent precedents can be found in European modernism. Stuppin learned the expressive potential of the landscape from the paintings of van Gogh and Matisse. The West Coast roots of his art are clear in Stuppin's insistence on merging representation with abstract gestural and expressive elements. One thinks of artists from Joan Brown and Roy De Forest to Wayne Thiebauld.
Stuppin paints methodically. He typically sets up in the morning and works into the afternoon, painting from top to bottom, as if slowly pulling down an inverted window shade to reveal the landscape he sees. The places his paintings depict, in straightforward compositions of form and color, look primal, almost untouched by humans. His New Mexico landscapes are devoid of scars from overgrazing and other human practices.
Instead, Stuppin's paintings are full of wonder and amazement at pristine nature, painted by a man completely at home in this world. Stuppin's paintings produce a serotonin rush of pleasure. In part this comes from the kind of naiveté or innocence they embody, and in part it comes from their visual richness. But there is more at work on these surfaces. Stuppin employs a series of compositional strategies - rhythmic patterns and careful juxtapositions of color - calculated to capture and reveal the essential unifying principles of the natural world. The paintings provide us with a sense of the sacredness inherent in each moment and each place, to which we are invited, along with the artist, to feel, to contemplate, and to revere.
Even to a person familiar with his paintings of the rocky California coastline and orchard-covered hills of Sonoma County, Stuppin's Northern New Mexico landscapes can be startling. Hardly anyone will fail to recognize the rock formations, the pinons, the junipers, and the sage - either because they have seen them themselves or because they have been exposed to the paintings and photographs of Georgia O'Keeffe and Ansel Adams - but the conventions of representing the place are decidedly missing. Gone are the vast expanses of timeless space, replaced by tightly compressed visual fields pulsating with energy. Gone are the sun-bleached hues, replaced by colors of blinding intensity. Gone, even, is the arid beauty of the high desert, replaced in Stuppin's hands by a landscape that is positively lush and verdant.
Stuppin's paintings can be seen as the artist sees them himself - as end products of the process of standing in nature and transforming perceptual experience into art. They can be seen, as Kuspit asserts, as philosophical meditations on time and fate. They can even be seen as the artist's mischievous art-critic friend John Fitz Gibbon describes them - as delectable conflations of two genres, still life and landscape. It is a humorous notion: where Stuppin paints rocks and trees, Fitz Gibbon finds carrots and broccoli spears. But, whether these paintings record the vision of an intrepid lover of the world or the cosmological musing of a hungry man, what begins as a visual feast for the viewer ends up as an immensely soul-satisfying experience.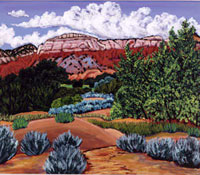 Sage at Ghost Ranch, 1999
Acrylic on Canvas, 24" x 30"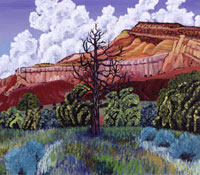 Chimney Rock, Ghost Ranch, 1999
Acrylic on Canvas, 25" x 31"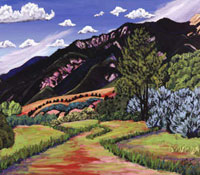 Sacred Taos Mountain, 1999
Acrylic on Canvas, 25" x 31"