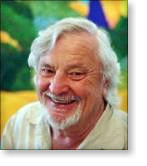 Born in Yonkers, New York in 1933, Jack Stuppin is a graduate of Columbia College, NY and studied painting at the San Francisco Art Institute. He was for many years a member of The Sonoma Four, a group well-known for their en pleine air landscape painting. He resides in Sonoma County, California.
Jack has exhibited nationally in many solo and group shows. His paintings are held in public collections around the country. For a more complete listing, please see his Chronology.
Essays and reviews about his work have been written by recognized critics and art historians including Kenneth Baker, John Fitz Gibbon, Philip Linhares, Donald Kuspit, Miriam Roberts, Peter Selz, and Mark Van Proyen.